One of Asia's prime resort destinations – Phuket – has experienced a sustained upward growth cycle that has seen passenger arrivals nearly double over the past five years.
As Teflon Thailand has experienced it's ups and downs over in the political arena, airlift has continued to flow not only into Bangkok's two gateway airports, but into secondary airports such as Krabi, Chiang Mai and Samui which followed a similar trend to Phuket.
New data released by Thailand-based consulting group C9 Hotelworks shows that a year-on-year spur in international passengers hit 8%, while the domestic sector surged upwards by 15% which in practical terms includes a significant number of overseas travelers transiting Suvarnabhumi and Don Mueang. A key catalyst to the changes continues to be mainland China, which compared to the same period in 2014 vs. 2015 rose a staggering 34%.
While China based-tourists were thought to be on the wane given the country's economic woes and depreciating currency the reality on the ground is that many travelers who might have chosen long haul trips to Europe, North America or Australia have instead flocked to Thailand.
Commenting on the mass market, C9′s Managing Director Bill Barnett said "location, location, location – the China syndrome has so much to do with door-to-door travel time fuelled by a rising number of low-cost airlines that use single-body aircraft. Another key factor remains a unique cultural connection and high esteem for Brand Thailand on the Mainland".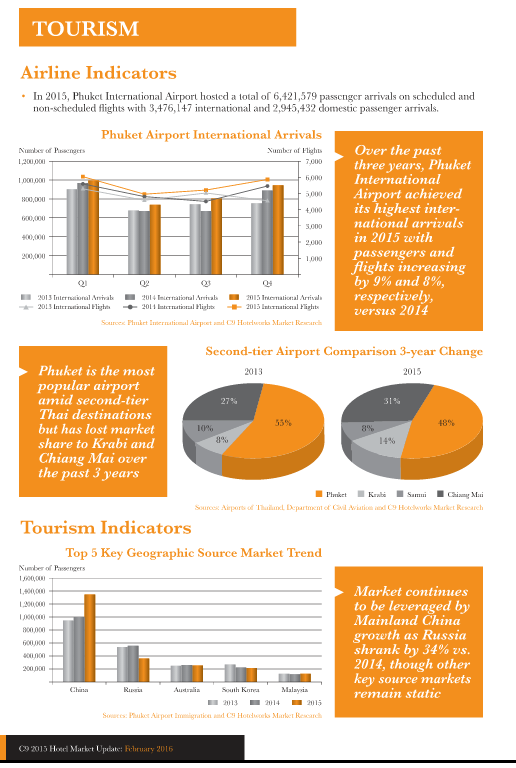 One key highlight revealed in the C9Hotelworks Phuket Hotel Market Update 2015 (Download Full Report Here) is the issue facing the island's hotel operators and owners regarding rate management. While increases in the market are in occupancy, they are not in rates, which remains somewhat static compared to last year, with only a 1% market-wide rise.
Says Bill Barnett: "A rise in OTA's, wholesalers and shorter booking periods of less than 30 days is seeing hotels push the over-react button on rates and in many cases short selling their product. It's a shifting market that has confused the traditional hotel yield mechanism and much of the demise in rates aside from a major change in geographic segments is panic selling."
Looking forward, Phuket's airlift is set to get a major boost this year with the opening of the new international airport terminal in June. On the heels of this has been news that an affiliate of Thailand's CP Group has been awarded a BoT concession for a THB200 million private jet terminal. This is expected to further boost the island's luxury sector which was the best performing hotel tier last year, demonstrated by a 17% increase in average daily rate (ADR) and 24% jump in RevPAR.